In our last lesson we put
Cordyceps to the Outstanding Organic Ingredient Test
and it passed with flying colors! Now, that we know that Organic Cordyceps Sinensis is an ingredient that is safe and has health benefits, we just need to figure out which of the hundreds of Cordyceps supplements on the market is the best organic Cordyceps supplement.
Isn't All Organic Cordyceps The Same?
No, No and Please Believe Us When We Say It - NO! There are three elements which play a tremendous role in the nutritional value of Organic Cordyceps – what it is grown on, the soil it is grown in and the environment that it is grown.
Organic Cordyceps, grown on a caterpillar, at 10 feet above sea level is NOT the type of Organic Cordyceps you want to find in your supplement. In addition, Organic Cordyceps, that is turned into a powder by exposing it to high heat – is again, NOT the type of Cordyceps you want to find in your supplement.
When looking for a high quality supplement, just seeing Organic Cordyceps on the ingredient list is not enough (to learn more, please read our article –
From Plant to Powder
). We of course want organic supplements (for all reasons outlined in
our Health Benefits of Organics Article
) – but there is much more we need to know about an organic supplement before we can pick the best one.
The Process to Pick The Best Organic Cordyceps
If you have not done so, now would be a great time to read our article –
Picking the Best Organic Supplements, Part 2
. Go ahead, read it over, we will wait…
Back now? Great! As the article states we have come up with our
Be The Best Supplement Test
. We applied this test to numerous Organic Cordyceps supplements and one supplement aced the test -
Perfect Cordyceps
from
Perfect Supplements
.
Applying the Be The Best Supplement Test to Perfect Cordyceps
Is The Supplement Certified Organic?
Yes, Perfect Cordyceps is made with only one ingredient. 100% Pure Organic Cordyceps Sinensis. Here is the Proof
Is The Supplement Fair Trade Certified?
As the Perfect Cordyceps is made with Cultivated Cordyceps that is grown in Hawaii, there is no "trade" involved so there is no Fair Trade Certification available.
Perfect Supplements does employ fair trade business practices and everyone involved in the production of the Perfect Cordyceps receives a fair living wage.
Is The Supplement Pure?
Yes! This is where the Perfect Cordyceps really shines. First, there is only one ingredient in the Perfect Cordyceps - 100% Pure Organic Cordyceps Sinensis. There are no fillers, flow agents, inactive ingredients or magnesium stearate (
click here to read the problems with magnesium stearate
).
The second element that we love about the Perfect Cordyceps is the source of the Cordyceps. The Perfect Cordyceps is made with Aloha Medicinals Cultivated Organic Cordyceps. The cordyceps in Perfect Cordyceps is -
Guaranteed to be the most potent Cordyceps in the world - 5 times more potent than Wild Cordyceps
The only Cordyceps Sinensis that is grown in low oxygen, low temperature
conditions - just like nature!
Guaranteed 100% DNA Certified through Independent testing to be authentic Cordyceps Sinensis
Guaranteed 100% USDA Certified Organic
Guaranteed 100% Vegetarian - Absolutely no insect residue
Grown on grain, no animals or insects used
Guaranteed to be derived directly from Tibetan Strains
Guaranteed to be 100% American Grown in FDA registered biotech facility
Remember that 63 Page Research article on Cordyceps that we referenced in our article on Cordyceps Health Benefits? The Cordyceps in the Perfect Cordyceps was made by the author of that article!
Has The Supplement Been Lab Tested?
Yes. We were able to find more testing done on the Perfect Cordyceps than any other Cordyceps on the market.
In fact, they even have this HPLC test –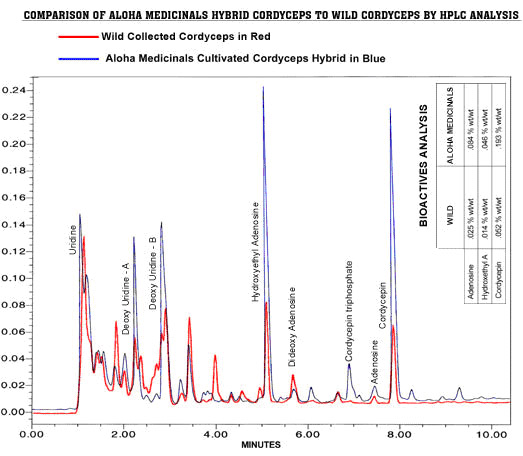 The above test shows that the Cordyceps Sinensis is 5 times more powerful than Cordyceps grown in the wild. Remember almost all the positive testing on cordyceps was done on wild cordyceps, and now in the Perfect Cordyceps you are getting something that is 5 times stronger than that wild cordyceps!
Is The Supplement Made From The Whole Food?
Yes. The Perfect Cordyceps is NOT made from extracts – it is made from whole Cordyceps. The Organic Cordyceps is grown in a cultivated setting and then simply dried into a powder and placed in capsules for the Perfect Cordyceps.
Is The Company Reputable?
Yes. Perfect Supplements, LLC is a member of the Better Business Bureau (BBB) and has absolutely no negative reports on file. In addition, their phone number and physical address is clearly listed on the site.
We also did a search for negative comments and reviews on "Perfect Supplements" and we could not find anything.
Does The Company Offer a 100% Money Back Guarantee?
Absolutely yes! No questions asked, no restocking fees, no hoops to jump through. Simply, if you are not happy, they refund your money. This shows the company really stands behind their Perfect Cordyceps. Here at Best Organic Supplements we offer the same money back guarantee on all of the products sold in our
supplement store
.
We love the
Perfect Organic Cordyceps
and believe it is the best Organic Cordyceps Supplement that you can buy, but even if you decide on another brand, hopefully the information in these lessons will help you make an informed decision. Maybe the only thing more powerful than organic ingredients is a good education!